Title: Swaying Hearts and Minds: An Exploration of the Enigmatic Beauty and Symbolism of the Anime Nordic Victorian Warrior Woman ( Full Body View) Introduction: Enter the captivating realm of anime, where the boundaries of creativity know no limits, and embark on an illuminating journey of discovery with the Anime Nordic Victorian Warrior Woman. She is a character whose unconventional beauty seamlessly merges the grace of Victorian aesthetics with the indomitable strength of her Nordic heritage. As an emblem that challenges traditional standards of beauty, she stands as a powerful icon within the world of anime. In this detailed essay prompt, we cordially invite you to immerse yourself in the multifaceted character of the Anime Nordic Victorian Warrior Woman, with a profound focus on her physical attributes, distinctive attire, weaponry, and the far-reaching implications of her portrayal in contemporary popular culture. I. The Unconventional Beauty of the Anime Nordic Victorian Warrior Woman: A. Muscular Slim-Toned Body: Embark on an exploration of the unparalleled beauty encapsulated by the anime Nordic Victorian Warrior Woman. Her physique is a testament to her unwavering dedication, marked by sculpted arms and legs that bear witness to relentless training. However, the zenith of her allure is her meticulously carved abdomen, akin to a masterful piece of art. These well-defined abs radiate a message of unyielding determination, as they boldly challenge conventional standards of femininity and beauty, echoing defiance in the face of entrenched ideals in both Victorian and anime cultures. B. Facial Features: Unveil the striking facets of her facial features that harmoniously complement her robust physique. Her high cheekbones, reminiscent of regal grace, cast shadows that emphasize her strength. Her sapphire eyes, intense and all-seeing, have the power to delve into the souls of those who gaze upon her, whispering tales of resilience and valor. Her determined expression magnifies her charismatic charm, resonating with an unwavering resolve that embodies her character. Her hair, meticulously styled as a homage to her Nordic heritage, flows like a cascading waterfall, radiating the essence of a Viking warrior. II. Attire: A. Victorian Fashion with an Anime Twist: Embark on an intricate examination of her Victorian-inspired attire, a harmonious fusion of elegance and functionality. Crafted from the finest materials in a palette of opulent colors, her attire is a masterpiece that showcases intricate design elements such as corsets, delicate lace, and layering. Adornments inspired by her Nordic heritage, such as meticulously sewn runes and Viking motifs, are interwoven into the fabric, seamlessly uniting her roots with the grace of Victorian aesthetics. B. Combat Attire: Analyze her battle-ready ensemble, where aesthetics coalesce with practicality. Reinforced armor, thoughtfully placed to ensure both mobility and protection, lovingly embraces her form. Sturdy boots, bearing Nordic motifs, enhance her readiness for combat. Leather gauntlets and belts, serving both utilitarian and aesthetic purposes, complete her ensemble. This marriage of fashion and function epitomizes her dual identity as both a Victorian lady and a formidable warrior. III. Weapons and Combat Style: A. Signature Weapon: Delve into the intricacies of her signature weapon, a masterpiece that combines Victorian steampunk design with Nordic craftsmanship. Beyond its practicality, this weapon encapsulates her essence as a warrior, from its exquisitely engraved hilt to the ornate detailing along the blade. These details are visual poetry, a reflection of her skill, strength, and unwavering dedication to the art of war. B. Combat Style: Examine her mesmerizing combat style, a fusion of agility, strategic brilliance, and mastery of combat techniques. Her unique approach seamlessly marries the elegance of Victorian fencing with the raw power of Nordic martial arts. This distinctive combination sets her apart as a character who wields her weapon with unparalleled grace and precision, serving as a true reflection of her multifaceted abilities and inner strength. IV. Implications in Modern Popular Culture: A. Discuss her Impact: Analyze the profound influence of the Anime Nordic Victorian Warrior Woman in the modern landscape of anime and popular culture. How does her presence challenge long-standing beauty norms, and what profound transformations does she instigate within societal perceptions? Explore her pivotal role as a catalyst for change. B. Symbolism of Strength and Empowerment: Delve into the inherent symbolism embodied by this character, representing strength, empowerment, and unwavering self-confidence. Discuss how her very existence emphasizes the paramount importance of embracing diverse body types and challenging the stifling norms imposed by mainstream media. How does she serve as a beacon of strength and individuality, championing inclusivity in a world that hungers for empowering and diverse representations? Conclusion: This essay prompt invites you to embark on a journey of exploration, uncovering the multifaceted beauty and symbolism of the Anime Nordic Victorian Warrior Woman. Her unconventional beauty, a seamless blend of Victorian grace and Nordic strength, stands as a defiant challenge to traditional standards. She emerges as an emblem of empowerment and inclusivity, striking a chord with contemporary audiences who seek diverse and empowering representations in the world of anime and beyond.
Title: Swaying Hearts and Minds: An Exploration...
"Delving into the unsettling realm of visual aberrations, we confront a stark departure from the standards of excellence. Here, we embark on a journey through a domain plagued by digital anomalies, where integrity crumbles, and glitches manifest with disturbing vitality. Within this disconcerting sphere, we encounter images that have suffered irrevocable degradation, their essence marred by errors that defy redemption. These depictions are ensnared by the affliction of haphazard cropping, reduced to mere fragments of their intended magnificence, a mere shadow of their true potential. The canvas on which they exist is a chaotic tableau, painted with discordant strokes, ravaged by the unmistakable scars of JPEG artifacts that warp and fragment what was once whole. Each step in this ill-fated exploration teeters perilously on the brink of disaster, as visuals find themselves unceremoniously cast adrift from their intended context, relegated to the fringes of their intended existence. Watermarks, akin to obtrusive scars, invade the composition, etching their presence indelibly upon the wounded canvas. Here, poor quality reigns supreme, rendering figures that were once symmetrical and proportionate into cruel caricatures, grotesquely distorted and mangled. Ugliness pervades the visual landscape as faces contort into nightmarish masks, bearing witness to the negligence of craftsmanship. Limbs, instead of embodying grace and functionality, become agents of discord, often burdened by an unnatural surplus. Mutation takes hold as the boundaries of reality stretch beyond recognition. Extra limbs sprout like malformed branches, or arms emerge from unexpected places, defying all semblance of anatomical norms. Fingers multiply, limbs contort unnaturally, and bodies adopt grotesque parodies of their true forms. A cacophony of disfigurement extends to every facet of the image – from elongated necks that appear to defy gravity, to the presence of multiple sets of arms that defy the laws of biology. Eyes, once the windows to the soul, are reduced to misshapen voids; feet lose their grounding essence, reduced to mere appendages of aberration. Faces bear the brunt of this cruel metamorphosis, their features twisted and distorted, resembling an attempt at expression gone horribly awry. Heads are severed from bodies, a testament to the chaos that reigns, and the number of fingers and arms can only be described as unsettlingly excessive. In this digital wilderness, images endure a fate worse than mutilation. They undergo a transformation so radical that it can only be described as monstrous. The world of visual representation is bent, broken, and warped, discarding all notions of harmony and embracing a reality of distorted proportions and nightmarish deviations."
"Delving into the unsettling realm of visual ab...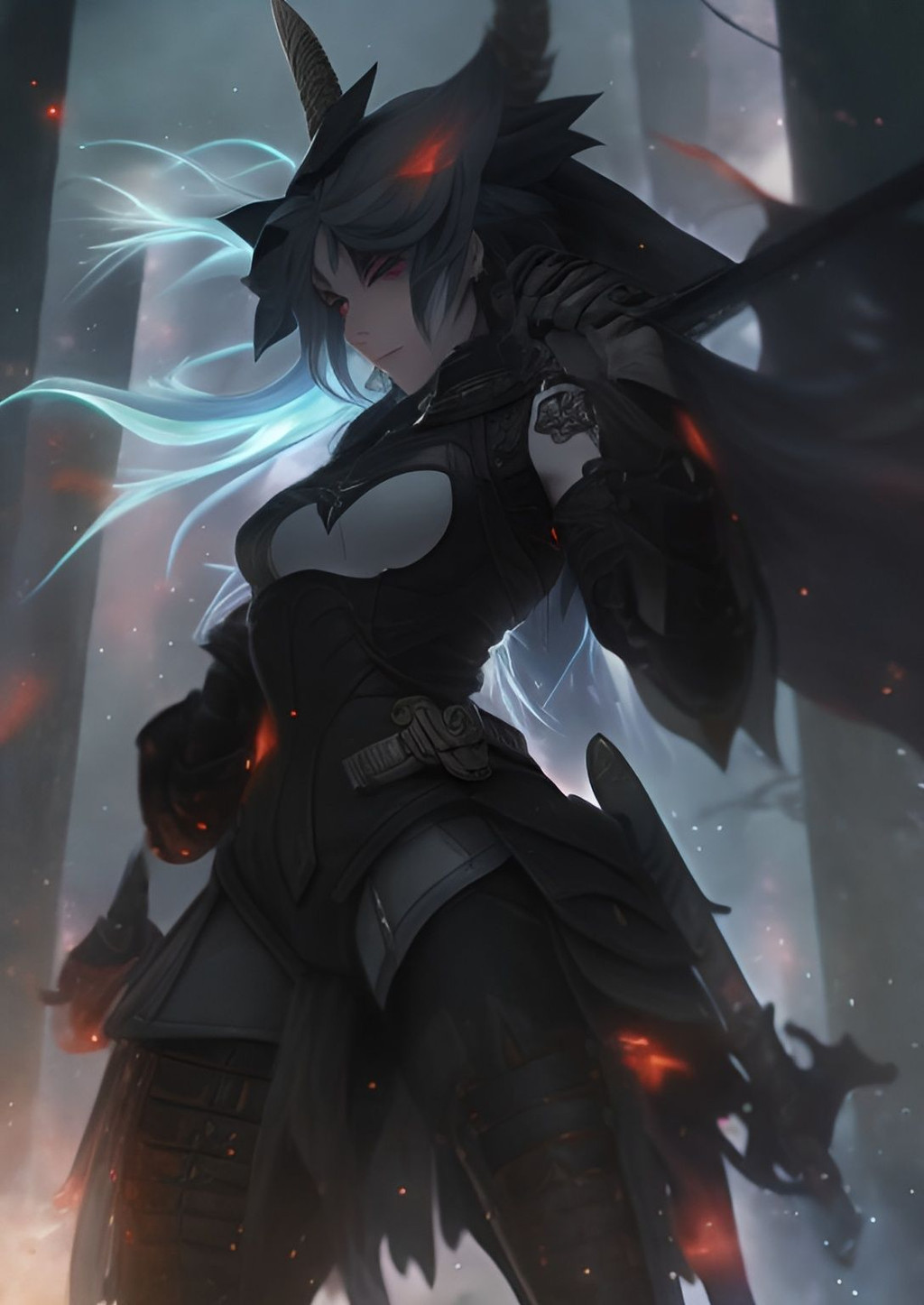 Discover More Art
Loading...