Title: Unveiling the Enigma of the Anime Nordic Victorian Warrior Woman: An Unconventional Beauty in Full View Introduction: In the vast and boundless world of anime, where the limits of imagination seem non-existent, the Anime Nordic Victorian Warrior Woman emerges as a character like no other, a powerful embodiment of unconventional beauty. She seamlessly blends the grace of Victorian aesthetics with the indomitable strength of her Nordic heritage, boldly defying traditional beauty standards with her strikingly muscular yet slim-toned physique and well-defined abs. In this meticulously detailed essay, we shall delve into the intricate facets of this extraordinary character, scrutinizing her physical attributes, her distinctive attire, her choice of weaponry, and the profound implications of her portrayal within modern popular culture. I. The Unconventional Beauty of the Anime Nordic Victorian Warrior Woman: A. Muscular Slim-Toned Body: The anime Nordic Victorian Warrior Woman boasts a physique that is both muscular and exquisitely slim-toned. Her arms, resembling sculpted pillars of strength, display a network of powerful muscles that are, at once, a testament to her unwavering dedication to training and a source of awe for those who encounter her. As her legs, too, mirror the same meticulous craftsmanship, one cannot help but be drawn to her commanding presence. But it is her chiseled abdomen that captivates most profoundly. Etched with the precision of an artist's finest work, her well-defined abs speak of an inner resolve and an indomitable spirit that could only be honed through relentless discipline. These meticulously sculpted abs, eternally taut, glisten under the anime's ethereal light, challenging the very essence of conventional femininity and beauty standards, breathing life into a new, empowering archetype that transcends boundaries and conventions. B. Facial Features: Her facial features, while complementing her muscular physique, are equally compelling. Her high cheekbones lend an air of regal grace, casting shadows that accentuate her strength. Her intense eyes, like sapphire orbs, pierce through the veil of reality, seemingly reaching deep into the viewer's soul. They tell tales of battles fought and inner resilience that have emerged unscathed. Her determined expression further enhances her facial charm, resonating with a stoic resolve, blending harmoniously with her physique. Her hair, styled in a manner that pays homage to her Nordic heritage, flows like a cascading waterfall. Its lustrous strands embrace the spirit of a Viking warrior, invoking a sense of nobility and strength. II. Attire: A. Victorian Fashion with an Anime Twist: Her Victorian-inspired attire is a masterpiece of design and utility, harmonizing elegance with practicality, befitting a warrior. Crafted from the finest materials in a palette of rich and regal colors, it showcases intricate design elements, such as corsets, delicate lace, and layers of fabric. Her outfit is adorned with Nordic embellishments, meticulously sewn runes and Viking motifs, woven into the fabric in a tapestry of heritage, marrying her roots with the grace of Victorian aesthetics. B. Combat Attire: Her battle-ready attire is not merely for show; it's a functional masterpiece. Reinforced armor, strategically placed and ingeniously designed, embraces her form without compromising her mobility. Sturdy boots provide support, their soles etched with patterns resembling Nordic motifs, rooted in tradition. Her ensemble is completed with accessories like leather gauntlets and belts, each serving a purpose in combat and enhancing her form's aesthetic appeal. It's a perfect marriage of fashion and function, epitomizing her dual role as a Victorian lady and a fearsome warrior. III. Weapons and Combat Style: A. Signature Weapon: Her weapon of choice is a work of art, a fusion of Victorian steampunk design and Nordic craftsmanship. It is not only practical but symbolic, embodying her essence as a warrior. The intricacies of her signature weapon, from its meticulously engraved hilt to the ornate detailing along the blade, are visual poetry. This masterpiece is an extension of her very being, symbolizing her prowess, her strength, and her dedication to the art of war. B. Combat Style: Her combat style is a mesmerizing blend of agility, strategic prowess, and a refined mastery of combat techniques, rendering her a formidable force in the anime world. This unique style combines the elegance of Victorian fencing with the raw power of Nordic martial arts, setting her apart as a truly one-of-a-kind character who can artfully dance with her weapon, a reflection of her inner strength and multifaceted abilities. IV. Implications in Modern Popular Culture: A. Discuss her Impact: The Anime Nordic Victorian Warrior Woman disrupts preconceived notions of beauty and femininity in the contemporary realm of anime and popular culture. Her presence challenges stereotypes, paving the way for a new era of diverse representations that resonate with modern audiences. She is an embodiment of the changing tide in societal perceptions. B. Symbolism of Strength and Empowerment: This remarkable character symbolizes empowerment, strength, and self-confidence. Her existence underscores the importance of embracing diverse body types and defying established norms within media. The Anime Nordic Victorian Warrior Woman stands as an emblem of strength and individuality, a champion of inclusivity in a world craving empowering representations. She is a catalyst for a new era of body positivity and acceptance in the world of anime and beyond. Conclusion: The Anime Nordic Victorian Warrior Woman is a character that captivates, intrigues, and inspires. With her unconventional beauty, she unapologetically defies the norms, shattering preconceived notions of beauty and femininity. Her fusion of Victorian elegance and Nordic strength is a beacon of empowerment, resonating with a modern audience seeking inclusivity and celebrating diverse body types. She is a symbol of strength, individuality, and the profound potential of anime to influence and reshape our cultural landscape, embodying the changing dynamics of beauty and empowerment in our world today.
Title: Unveiling the Enigma of the Anime Nordic...
"Delving into the unsettling realm of visual aberrations, we confront a stark departure from the standards of excellence. Here, we embark on a journey through a domain plagued by digital anomalies, where integrity crumbles, and glitches manifest with disturbing vitality. Within this disconcerting sphere, we encounter images that have suffered irrevocable degradation, their essence marred by errors that defy redemption. These depictions are ensnared by the affliction of haphazard cropping, reduced to mere fragments of their intended magnificence, a mere shadow of their true potential. The canvas on which they exist is a chaotic tableau, painted with discordant strokes, ravaged by the unmistakable scars of JPEG artifacts that warp and fragment what was once whole. Each step in this ill-fated exploration teeters perilously on the brink of disaster, as visuals find themselves unceremoniously cast adrift from their intended context, relegated to the fringes of their intended existence. Watermarks, akin to obtrusive scars, invade the composition, etching their presence indelibly upon the wounded canvas. Here, poor quality reigns supreme, rendering figures that were once symmetrical and proportionate into cruel caricatures, grotesquely distorted and mangled. Ugliness pervades the visual landscape as faces contort into nightmarish masks, bearing witness to the negligence of craftsmanship. Limbs, instead of embodying grace and functionality, become agents of discord, often burdened by an unnatural surplus. Mutation takes hold as the boundaries of reality stretch beyond recognition. Extra limbs sprout like malformed branches, or arms emerge from unexpected places, defying all semblance of anatomical norms. Fingers multiply, limbs contort unnaturally, and bodies adopt grotesque parodies of their true forms. A cacophony of disfigurement extends to every facet of the image – from elongated necks that appear to defy gravity, to the presence of multiple sets of arms that defy the laws of biology. Eyes, once the windows to the soul, are reduced to misshapen voids; feet lose their grounding essence, reduced to mere appendages of aberration. Faces bear the brunt of this cruel metamorphosis, their features twisted and distorted, resembling an attempt at expression gone horribly awry. Heads are severed from bodies, a testament to the chaos that reigns, and the number of fingers and arms can only be described as unsettlingly excessive. In this digital wilderness, images endure a fate worse than mutilation. They undergo a transformation so radical that it can only be described as monstrous. The world of visual representation is bent, broken, and warped, discarding all notions of harmony and embracing a reality of distorted proportions and nightmarish deviations."
"Delving into the unsettling realm of visual ab...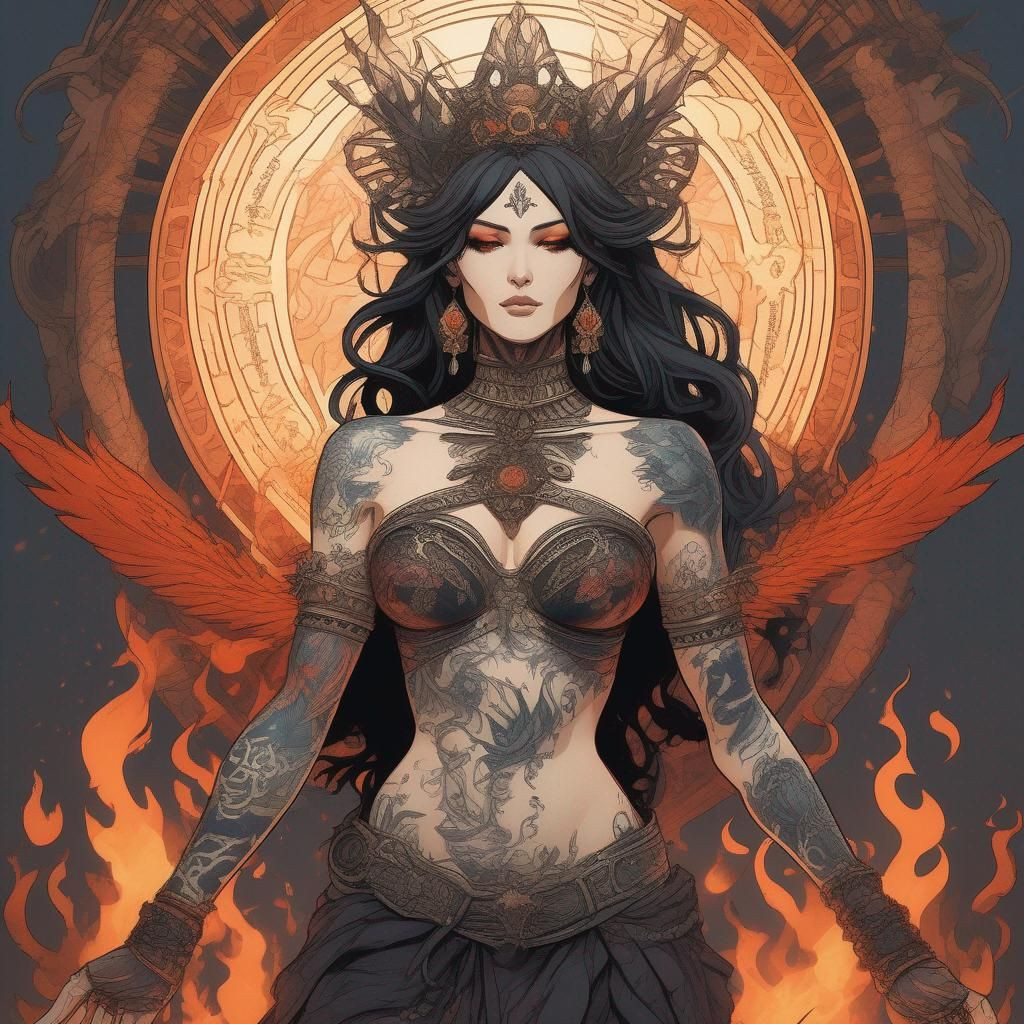 Discover More Art
Loading...